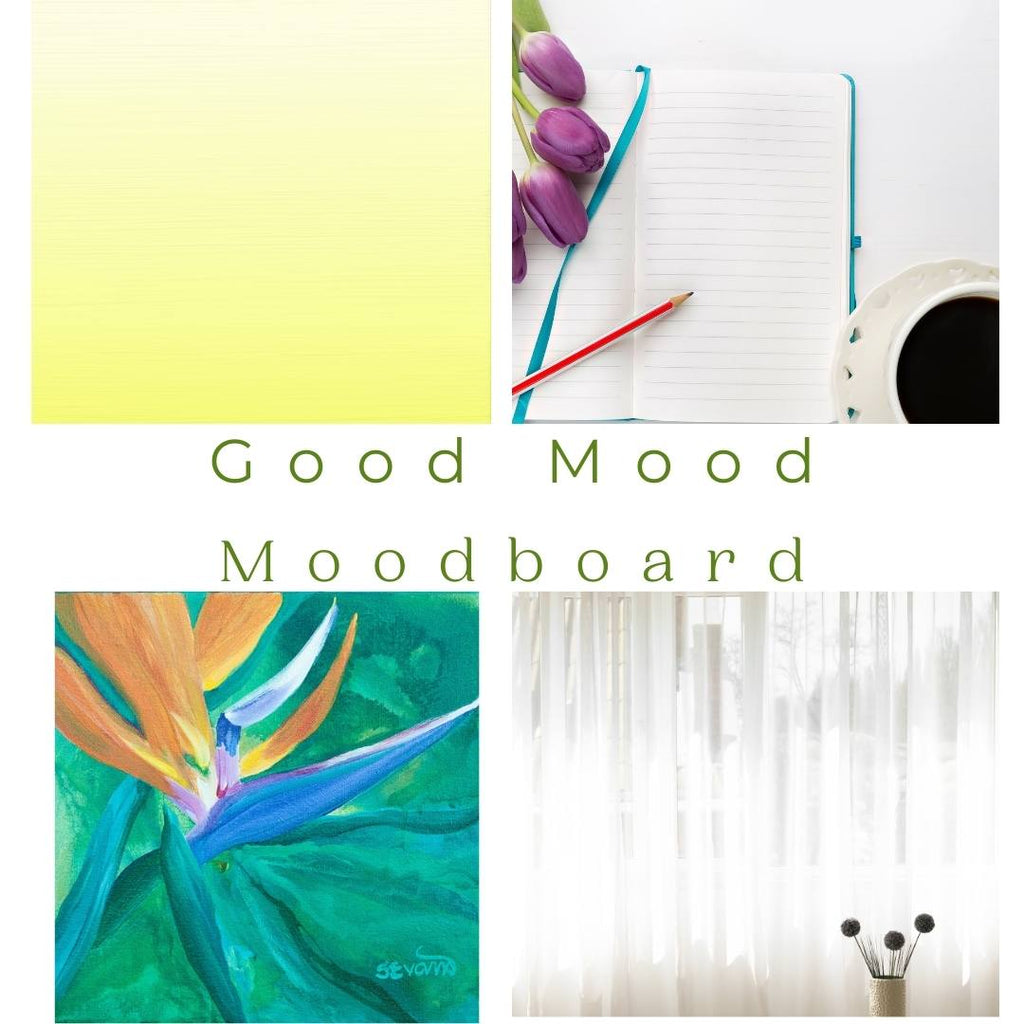 Years ago, when we wanted to update our home, we relied on our DIY skills.
How paint changes the mood of a room
Back then, one of my most used skills was to update with paint.  Paintings on the walls, by me and my husband, (we still do that!).    But also, painting the walls.
We didn't have the budget to hire someone so I became a Faux finisher, painting the walls with decorative finishes.  I faux finished the heck out of that place.  
Every room had wallpaper.  Every room and nook and cranny had wallpaper.
Most of it was attached like barnacles on a boat so part of the drywall came off when we removed it. 
I usually painted subtle finishes that were easy to live with, neutral enough to display our colorful artwork, and add light to the rooms.
My office was a different story.  I thought I would do something more dramatic and "interesting".
Something went terribly wrong 
I ended up with a brownish swirled faux finish the color of sadness.   I love brown by the way, just not "that" brown.   
I kept the dark wood built in shelves and the dark wood shutters that blocked an uninspiring view of the neighbor's house.
The overall result and style was not modern magic or vintage chic.  It was more like dreary cave.  
For some people, that might be appealing.  A dark and cozy space like a cigar lounge in the middle of the day, without the cigars or the lounging.
I couldn't find a photo of my room or the finish I used.  This one looks way better.
But it wasn't a good fit for me.  It felt dark and depressing. 
The funny part is, I didn't change the room for a long time.  I had "fixed it up", so I checked that off my list, even though it wasn't working.
It wasn't an improvement, it was just a change
I didn't even realize that instead of inspiring me to go in there and work, it repelled me.  I didn't understand how much that affected my energy and mood.
Three or four years later….
The shutters were replaced with sheer curtains that let in light but blocked the uninspiring view.  
The walls were painted sunshine yellow.  The bookshelves and molding were painted white.   The desk faced out to the light and spacious living room instead of the wall.
I could see a triptych of my colorful paintings in the living room from my desk.  My art was hung on the wall as you walked into the office. 
What a difference that made in how I felt in the room!  
This mood board puts me in a good mood!
It made me feel lighter, more energetic, happier.
It was a great lesson in how much light, color, and art can change your day, your mood, and your energy level.
I realize now, I could have  made a couple immediate improvements that would have made a huge impact in an afternoon, even without repainting.    If I had let more light into the room and added colorful artwork, the whole space would have been transformed.
Is there a room in your home that you could elevate to align with what brings you joy?
Sally Evans Art  helps you reduce stress and increase joy.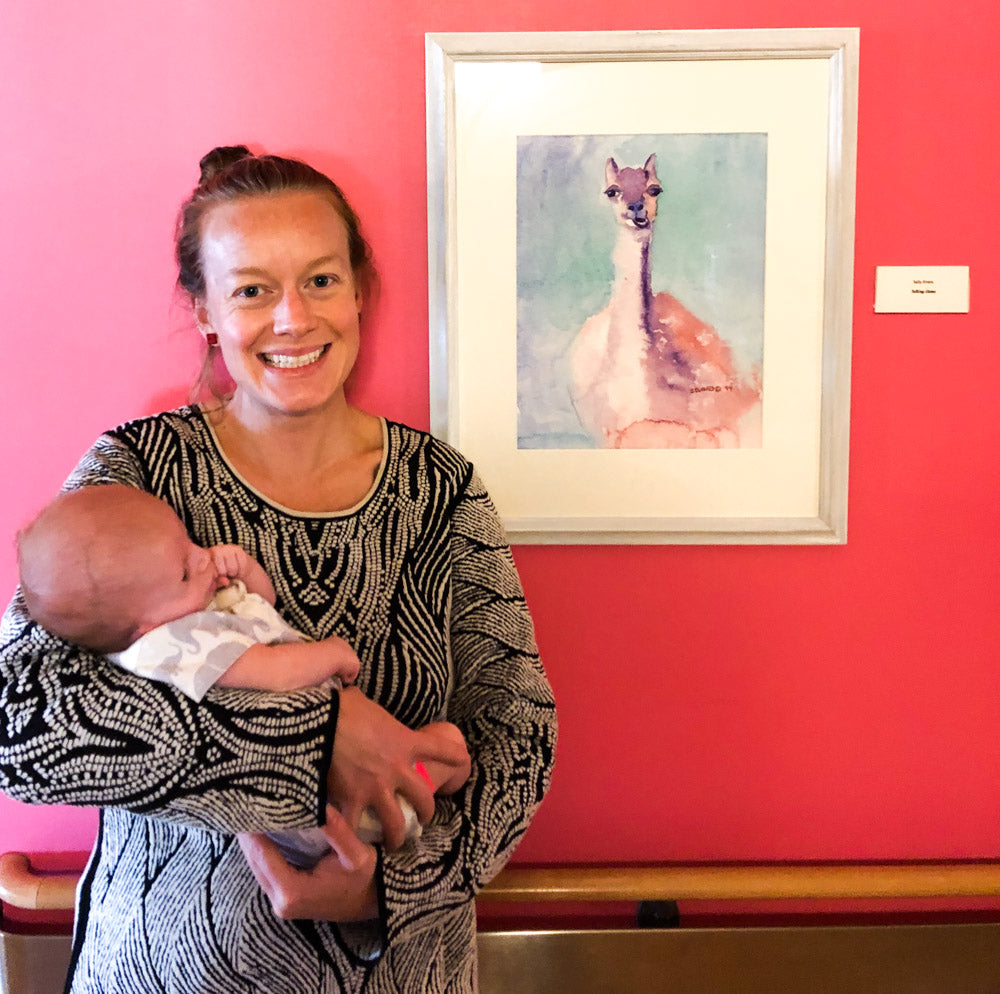 I came across an article, How Hospital Art Collections Became Very Personal  [ Americans for the Arts website] ,that got me emotional and completely surprised me.
It was about the power of art in a hospital.
It started with this wonderful quote.
"At the deepest level, the creative process and the healing process arise from a single source.   When you are an artist, you are a healer."         —Rachel Naomi Remen, MD
Elysian McNiff Koglmeier was writing an article about hospital art collections for Artwork Archive a few days before her baby was born, having no idea how real that quote would become.
Her baby, Odin, was born with a rare genetic syndrome, TCS, which affects the development of the bones and soft tissues in the face.
[If you've seen the movie Wonder ,Auggie, the young boy had this syndrome.]
An emergency visit 3 days after Odin was born became a 3 month stay at Children's Hospital Colorado.  
This was so surprising
I was feeling so much compassion for Elysian, Odin and their family, I was shocked when I scrolled down and saw a picture of them in front of my art.
What??
When our son was young, I used to paint whimsical watercolor animals.  I forgot that I had contacted Children's Hospital Colorado when I decided to work in a different style.  
Outside Odin's room, on the 9th floor, was my watercolor Zebra, Stars and Stripes, and my pink Talking Llama.
The art calmed her when she was feeling stressed
Elysian said having the hospital's thoughtful art collection calmed her when she was feeling stressed and gave her a way to bond with Odin as they walked the halls. 
She spoke of viewing the art giving her a sense of normalcy in such difficult circumstances.
She said it felt like a treat and a welcome diversion from the constant stress.
The art brought the world to them when they couldn't go out into the world
She daydreamed of taking Odin to fun places like the art museum and the zoo after he was born.  Instead when their days were spent filled with medical tests, blinking lights and they couldn't leave, the art brought the outside world filled with animals, trees and sky into the hospital.
How are they doing now?
After I read the article, I reached out to Elysian to find out how she and Odin are doing.
Odin is 3 years old now, a delightful toddler.  They are doing well and still go to the hospital on a regular basis for appointments and physical therapy.
They are able to use the art when he needs a break.  Sometimes they use the art like a scavenger hunt, looking for colors and animals. She likes the relationship they have with the art to return to the old favorites and see new pieces as well.
Elysian continues to work  for Artwork Archive,  which is an online art inventory system that helps artists, art collectors, organizations and corporations manage and keep track of their art.    [The affiliate link above will give you a free trial and a 20% discount for a year!]
She has had an impressive career championing the arts in different ways. She also grew up with art.   Her father is an art therapist and painter and her mother was an art teacher. 
Even though she already knew the power of art, the experience of being in a stressful hospital situation gave her a new perspective and deeper appreciation to art as a consumer to really understand what a difference it can make. 
She is now on the art selection committee for Children's hospital Colorado .  How perfect is that?
The healing power of art and why art is important
It is such a gift that hospitals and medical offices have embraced the healing power of art.
I was touched to be a small part of that for Elysian and Odin.
It was also reaffirming and humbling to realize you never know what can happen when you put your heart into your work and put it out into the world.
Elysian also told me that it also makes a difference for the care providers, doctors, and staff to add beauty and joy into their often difficult situations.
The value of art and how it can improve your wellbeing
I've known personally for a long time that art has a positive impact on your well being.
Hearing Elysian and Odin's story was a positive reinforcement of that.
Scientific studies have shown that seeing images of nature has some of the same effects as being in nature, such as lowering stress levels, lower blood pressure, reduced depression, healing faster, and improving your mood.
All of these things contribute to increasing your happiness too.
Enjoy the benefits of having art in your home, workspace, or organization as part of your wellness plan. 
Click here to check pieces currently available.