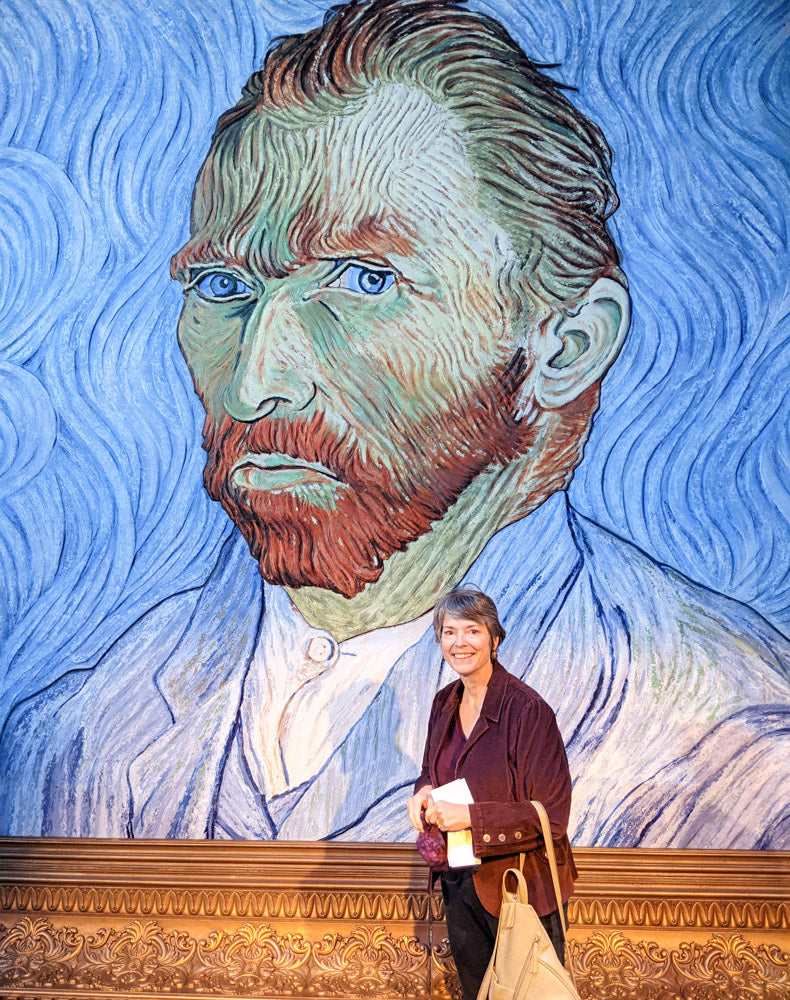 The room was dim.  Images from van Gogh's art appear and dissolve on the 2 story high walls completely surrounding us, as music plays and fills the room.  It felt surreal, like being in a dream. 
What makes van Gogh's art so popular?  
Last October, my husband and I visited the Immersive van Gogh, at Lighthouse Denver downtown, one of the many van Gogh experiences that has been traveling all over the world.
His work inspires me and obviously so many others.  I was curious what is it about van Gogh's artwork that continues to make it so well known and famous?
van Gogh purple iris art inside van Gogh immersive
Van Gogh's art continues to draw people in and move them
.
It's been over 130 years since Van Gogh died and people are still fascinated by his work!
What is it about his work that continues to resonate?
"Find things beautiful as much as you can.  Most people find too little beautiful."

Vincent van Gogh wrote this in a letter  to his brother Theo.
Experiencing Van Gogh work in person
We stumbled out of the plane, after our overnight flight from Denver to Amsterdam.  It was 9am, Netherlands time, 2008.  
We were trying to stay awake until the end of the day to acclimate to our new time zone.
Luckily the Van Gogh Museum was open and we went in to explore.

Sunflowers, Vincent van Gogh, 1889
Standing in front of van Gogh's paintings, and feeling the energy and vitality of his thick brush strokes was invigorating.  I felt such a reverence for his subjects that are still present.
One of my favorite exhibitions was at the Denver Art Museum in 2015 called Bloom, flowers in the age of Impressionism.


They showed the evolution of art from traditional, dark, detailed, photographic depictions of a floral still life to more colorful, light filled impressionistic paintings.
Some of van Gogh's flower paintings were included.
Vase with Cornflowers and Poppies, Vincent van Gogh, oil, 1887
You see iconic images like Sunflowers or Starry Starry Night everywhere.  in books, online, or on coffee mugs but it is not the same.
If you get the chance to see and experience his paintings in person, I highly recommend it.
Did van Gogh approach creating art differently than artists of his time?
He had the courage to paint what he felt.
Van Gogh painted from his heart and his emotions.  
Is it that Van Gogh suffered and still managed to find beauty?
Some people focus only on the drama of his life and his struggles with mental illness.  
Was it that he personified the contrasts of life?  He experienced struggles and darkness and was still able to see and express beauty and joy.


Starry Starry Night, Vincent van Gogh, 1889
Starry Starry Night is one of the most famous paintings in the world.
Van Gogh painted that from what he saw, along with memory and imagination. 
He combined views of what he saw outside his window from his room at Saint Paul asylum in Saint Remy, France.
 He painted the night time scene in the daytime.  
He included a church similar to what he saw in his youth, as the son of a pastor.
Van Gogh showed emotion in his work
He used color and brushwork to capture mood.
He used thick paint with bold and dramatic strokes and swirls filled with energy to show things unseen to the eye like the wind.
.
There are infinite interpretations of this iconic work from deep turbulence to hope.
Van Gogh said he wanted to paint with "expressive force".
"It often seems to me that the night is much more alive and richly colored than the day."

"To feel the stars and the infinite high and clear above you.  Then life is almost enchanted after all."

Van Gogh
Vincent van Gogh felt that he had failed as an artist.
He didn't think Starry Starry Night was a successful painting.
Van Gogh's painting career only lasted 10 years.
In that time, he created 900 oil paintings,1000 drawings, and 150 watercolor paintings.
It is too bad that he didn't live to see how his paintings touched so many people.
So, what makes Vincent van Gogh's art so famous?
I think what makes van Gogh's artwork so famous  is that he was able to express complex emotions.  He was able to feel, see and express beauty on such a deep level.
"What I want and set as my goal is damned difficult, and yet I don't believe I'm aiming too high. I want to make drawings that move some people.

"Even though I'm often in a mess, inside me there's still a calm, pure harmony and music. "

Excerpts of Letters From Vincent van Gogh to Theo, Jul 21, 1882
I think van Gogh was able to achieve exactly what he had hoped, that his art would express the deep and intangible beauty that transcends words and touches us all.  He indeed did move some people. 
His work still resonates today and captures the hearts and imagination of people around the world.
Well done, Vincent.  Well done. I wish you could have known how much joy your art has brought the world.